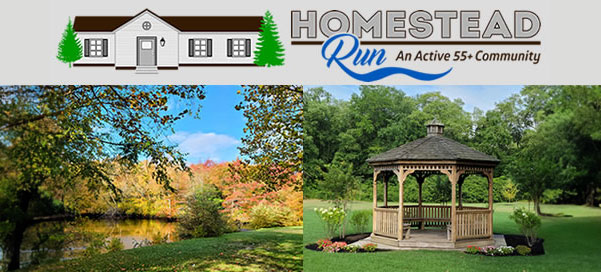 Manufactured Homes
Homestead Run is an active 55+ adult community providing many manufactured home options. Many people are unfamiliar with manufactured homes and their many benefits. Manufactured homes are not the trailers you would have seen in the old black and white movies. They are so much more.
What Are Manufactured Homes and How Are They Different From Other Homes?
Manufactured homes are a type of housing built in a factory and transported to the desired location. Other homes, typically called "stick-built" are constructed on-site
Because manufactured homes are built in a controlled environment, natural elements such as rain or wind will not affect the structure or delay the building process.
I love my house. I love living here, its quiet, so clean and the office staff goes above & beyond to help you. My special thanks to Renee, she has always been a wonderful person to myself and family who also live here. I look forward to being here and enjoying my retirement down the road. I would recommend Homestead Run to anyone considering moving into an adult community. It is definitely the best. My thanks to the owners and staff.
What Makes Manufactured Homes Safe?
One of the key advantages of manufactured homes is their structural integrity. These homes are typically placed on a concrete slab foundation and secured using tie-downs also known as hurricane straps. Tie-downs are heavy-duty straps and anchors that stabilize the structure and prevent displacement during high winds. This level of stability ensures the safety of both the structure and the people residing within it. It's worth noting that in over 50 years of business, Homestead Run has never lost a home due to high winds.
Thank you for welcoming us to the Homestead Run Community. The purchase of our home went smoothly. We were helped and informed throughout the process, which we were grateful for. Renee gave us courteous and professional help.
How Many Options/Types Are Available?
Manufactured homes come in various types to accommodate different needs and preferences. Homestead Run collaborates with reputable manufacturers such as Pine Grove and Skyline to offer a wide selection. These homes can be categorized as single or double wide, depending on their width and size. Single wide homes are typically compact, while double wide homes are more spacious. The choice of size depends on individual requirements and the available space on the property.
Manufactured homes offer a practical, reliable, and affordable housing solution. If you're interested in enjoying the benefits of a manufactured home and joining the Homestead Run community, call us today!
Homestead Run
100 Fireside Blvd. Toms River, NJ 08755
732-370-2300
© 2023 Homestead Run. All rights reserved