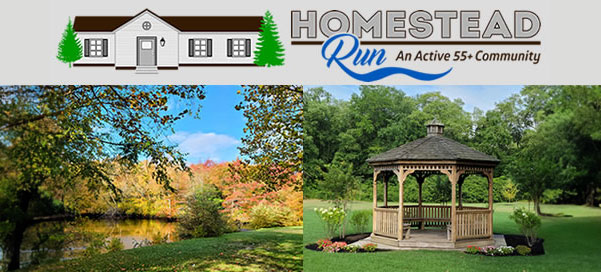 About Homestead Run
For over 50 years, Homestead Run has been an active 55+ community in the heart of Toms River. We offer moderately priced homes for seniors in an established and well-managed community. Explore what makes us who we are and why we may be the right fit for you.
Land-Lease Community
Homestead Run is a land lease community where you own your home but lease your land. This means that you will own the home but lease the land.
Active Community
Our community is consistently active with any number of options for socializing and spending time with like-minded people. The Homestead Run Women's Charity Club fundraises throughout the year to support local charities that are in need. Our Social Club offers monthly events, including bus trips to Atlantic City several times a year. We're never short on luncheons, dances, concerts, and seminars to help you age in place. Both Ocean Ride and the Toms River Senior Center offers transportation to those that need assistance getting to localities, including grocery stores and doctors offices.
Amenities Right in The Community
Our seasonal, 30x50 salt water swimming pool (depth of 3-6ft.) is open to residents and their guests from Memorial Day to Labor Day with a lifeguard on duty. We also have a newly renovated game room with pool and card tables, TV, darts, and indoor shuffleboard (more to come). We are located on the Toms River, allowing residents and their guests to fish and relax in a park-like setting.
Parking
Each home has its own driveway for easy accessibility. Additional parking can be found on the street and in the lot adjacent to the pool.
Pets
Homeowners are permitted to have dogs or cats in their home. Dogs must be on a leash with their owners whenever they leave the home. Proof of licensure and rabies vaccination are required. Pets cannot be tied outside, nor can they be left in a dog house. We have two dog areas in the park. Do note that these areas are not fenced in.
Outside Maintenance and Garbage/Recycling Collection
Homestead Run's Grounds Crew keeps all common areas clean. They also handle lawn maintenance and power washing for additional fees. Weekly garbage and recycling services are included in the lot rent.
Centrally Located
We're located in a great spot - right in the middle of fun places to go like beaches, malls, and restaurants. Close by, there's the Ocean County Mall and Brick Plaza Mall where you can shop and eat. If you're up for a beach day, Point Pleasant and Seaside Heights are not far away. They have beaches and boardwalks where you can relax, shop, or catch a live show. There's something nearby for everyone!
Contact us today if you would like to learn more about us! We'll be happy to answer any questions.
Homestead Run
100 Fireside Blvd. Toms River, NJ 08755
732-370-2300
© 2023 Homestead Run. All rights reserved