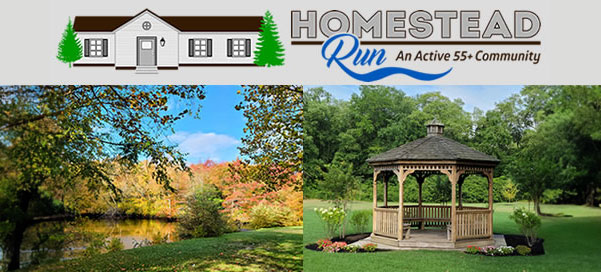 Frequently Asked Questions
Is Homestead Run an adult community?
Yes, Homestead Run is a 55+ manufactured home park, located in Toms River, NJ. We have 469 homes over 85 acres. We've been here since 1970 and are owned by the same, local partnership.
Is the community age restricted?
Yes, 55 to own and, at least, 42 to be an occupant. No children live in the park.
Do you allow pets?
Homeowners are permitted to have dogs or cats in their home. Dogs must be on a leash with their owners whenever they leave the home. They cannot be tied outside nor can they be left in a dog house. We have two dog areas in the park. Do note they are not fenced in.
What are your lot rents or HOA fees?
Homeowners own their home but lease the land. We are rent controlled by the Toms River Rent Leveling Board. Lot fees vary depending upon the age of the home.
What does the lot fee cover?
Your lot fee covers your lease of the land, real estate taxes, and garbage and recycling removal.
Are water/sewer fees included
No. You are responsible for all of your utilities – water, sewer, natural gas, and electric – based on usage. Every resident has their own meters.
What are the amenities?
Our 30x50 swimming pool (depth of 3-6ft.) converted to a salt water pool in 2022. Our seasonal pool is open to residents and their guests from Memorial Day to Labor Day with a lifeguard on duty. We also have a newly renovated game room with pool and card tables, TV, darts, and indoor shuffleboard (to come). We are located on the Toms River, so residents and their guests are able to fish and relax in a park-like setting.
Are you an active community?
We are an active community if you choose to participate. We have a Women's Charity Club who fundraises for local charities throughout the year. Our Social Club has monthly events as well as bus trips to Atlantic City and other local locations. We are never short on concerts, luncheons, or seminars that help you to age in place.
Do you have garages? Can I store my RV or boat there?
No, we do not. Each resident has a driveway. We do permit on-street parking. Commercial and over-sized vehicles are prohibited. Motorcycles must be parked at the pool parking lot and cannot be driven through the park.
Is lawn maintenance and snow removal included?
We have an on-site Maintenance Department and Grounds Crew. The main function of the Maintenance Department is to assist homeowners with repairs, install new homes, and coordinate the removal of older homes. The main function of our Grounds Crew is to keep the park clean. They can maintain your lot for a reasonable fee. In regards to snow, you are responsible for your driveway, and the Maintenance Department is responsible for the roads.
What if I have more questions?
Our Business Office is open Monday-Friday from 9:00am-5:00pm. Feel free to call us with any additional questions you may have.
Homestead Run
100 Fireside Blvd. Toms River, NJ 08755
732-370-2300
© 2023 Homestead Run. All rights reserved